Opening the Barrel Room at Danza Del Sol
One of the great things about Temecula is all of the barrel rooms. Barrel rooms provide a unique space to hold a reception. One of our favorite venues Danza Del Sol opened up their own barrel room to events on March 21st with Kassie and Matt's wedding. Matt's last name is Sample so of course this was the "Sample Wedding".
Kassie and Matt are from Alaska originally so their event was a small intimate evening with their closest friends and family. The event began as Kassie and Matt said their "I Do"s at the new ceremony lawn, with arguably the best ceremony view in Temecula.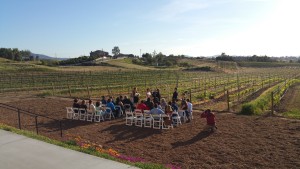 Then we kicked things off with cocktail hour that featured a custom cheese spread from a local artisan cheese shop and of course Temecula DJ C Squared Events fun photo booth was on hand to give the guests a one of a kind keep sake.
Barrel Rooms also look very good when properly lit with decorative uplighting.
Since this was the "Sample Wedding" we decided their monogram needed something special.
Course lights and monograms are not all that we bring to a party. Matt and Kassie (but especially Matt) was concerned his guests wouldn't dance. He said they were more of a hanging out crowd. Challenge Accepted.
It was a great night and we were excited to be a part of it.